Have you ever put Ivory soap in the microwave? I first learned about this experiment from over at Housing a Forest.  (We have been microwaving small pieces of soap quite frequently since then. Not full bars, I cut them into about 6 pieces). We have been saving all of the soap sculptures and crushing them into "soap flakes" for later use.
We added the flakes and today's sculptures to our sensory table with a double roll of toilet paper.  The children had a great time shredding and cutting the toilet paper while crushing the microwaved soap.
Then, when we were satisfied with the cutting and shredding, we added some warm water.
This wonderful mixture is known in the field of early childhood education as "clean mud."
 Our batch ended up with a little more water than necessary, but it sure is fun to play with!  This is the first time we have made clean mud in the microwave. In the past, we have used a cheese grater to grate the soap. (When I first started in early childhood, we make ours with soap flakes, but those are nearly impossible to find around here now!)
I shared this post over at The Amazing Mess: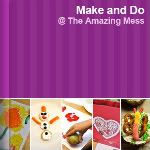 UPDATE!!! We have not been able to find soap flakes ANYWHERE around here, but it does appear that we might be able to start buying them by the case from downstate distributor!!!!! I really miss all of the fun things we have done with soap flakes. Oh, and I am doing a "soap swap" with an
Australian blogging friend
. I hope to have a box of Lux Soap Flakes any day… and she will have a box filled with Ivory!